(This post contains affiliate links, which means if you click on them and make a purchase, I get a small commission. For more information, see the Privacy Policy. Many thanks.)
Hello Rosary lovers! In this post we will look at how to pray the Rosary everyday.
At rosarylovers.com, we ADORE the Rosary and Mary, Queen of the most holy Rosary. We have many posts on the Rosary, such as this one on praying 4 rosaries a day.
I've been praying the Rosary daily for months and months now. I think since about November or Christmas time 2020. So about a year and a half. I've hardly missed a day since then.
At this point in my life, I couldn't live without the Rosary. I have it in my hand when I'm walking through town, or our walking in the woods. I have it when I walk my sons in the pram. I have it in my pocket always, including at work.
The Rosary is the greatest spiritual discipline I've ever given myself to. And believe me, I've had a lot of spiritual disciplines over the years. I've tried my hand at all sorts of things. But nothing has fit me so well as the Rosary.
That is one of the reasons I founded Rosary Lovers.
I love the Rosary. One of the reasons I love it so much is because it's become such a dear friend to me.
If I were to try to live a single day without the Rosary, I would feel a great sense of loss. For me, my days are sanctified by the Rosary, by the entire life of Christ in the Rosary.
Christ walks with me through each day, because of the Rosary.
That said, how can you pray the Rosary daily? How do I do it?
Get yourself a Rosary
You can pray the Rosary without a set of Rosary beads. But it is much better praying the Rosary with a set of beads.
You are more likely to pray the Rosary regularly if you own your own set of Rosary beads which you keep in your possession, like in your pocket or round your neck.
A very good company to look at is Sheen Rosaries (affiliate link). They sell beautiful and long-lasting Rosaries, and you can even get one custom made. You can also use this coupon code 1ROB6245 and get 10% off.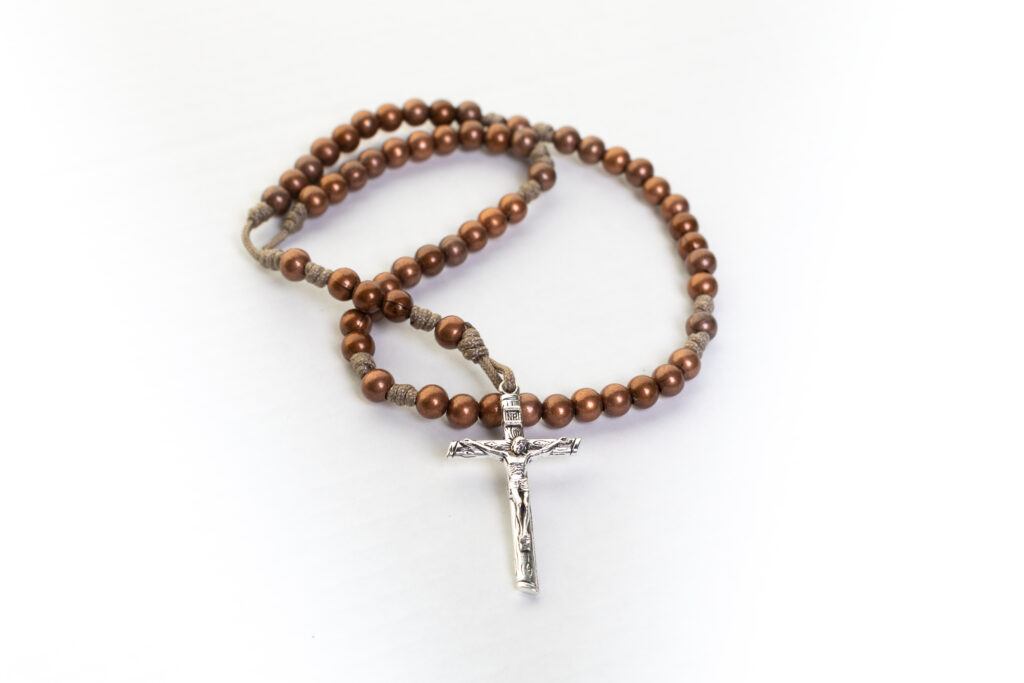 Just do it
The most important advice I can offer is: just do it. Just pray the Rosary, for goodness' sake.
Don't procrastinate. Don't put it off till later. Just do it.
Yes there will be times you don't pray the Rosary very well. So what? Mary sees your heart and knows that you are trying.
It's better to pray the Rosary even if you don't pray it well than to not pray it at all.
Pray it little by little
Another good tip is: don't pray a whole Rosary every time you pick up the Rosary.
This is not a perfect world and our Catholic lives aren't perfect. We are hindered by all sorts. Even Jesus couldn't have 5 minutes alone to pray without being bothered by his disciples (see Mark 1).
Such is life. So you don't need to be praying a whole Rosary each time you pray.
You might only get to pray a decade or even a few Hail Marys. This is great! You just remember where you got to, and pick up later in the day where you left off.
Praying the Rosary this way, you can get through huge amounts of the Rosary. You may even get through all 20 mysteries each day!!!
Ask Mary to help you pray it
Everyday, before I begin the Rosary, I ask Mary to help me pray her Rosary.
There hasn't been a day Mary has failed to answer this prayer.
There are even days I am set on the fact that I just won't be able to pray all the mysteries. And then, wonder of wonders, it gets to when I collapse into bed, and I've found that I've prayed the whole lot. Somehow. I don't know how.
There are times it gets so late and I'm so tired and have 4 decades left, or more. And yet, somehow, Mary helps me finish the Rosary.
I know Catholics who pray huge amounts of the Rosary. One Catholic I know doesn't even know how many rosaries she prays each day. That says a lot. If it were one or two, surely she'd know. Even if it were three or maybe four.
I know another Catholic who went a month praying 12 rosaries a day.
However do people do this????
GRACE. Mary gives grace and power to pray it.
So call upon her to help you.
Pray the shorter introduction to the Rosary
Getting the Introductory prayers to the Rosary 'out of the way' (so to speak) is half the battle. Once these are prayed, you're well on your way to reciting the Rosary daily.
What many Catholics don't know is that there are two introductions to the Rosary. A long one and a short one.
The long one is the one everyone knows. Sign of the cross, Apostles Creed, 1 Our Father, 3 Hail Marys and a Glory Be. This introduction takes about 3 minutes or so. It's a rather taxing beginning.
I recommend praying the shorter intro. It can be found here (bottom of the page) and is a perfectly legitimate and official introduction.
There is no need to pray the longer introduction to the Rosary. Just get down to the actual Rosary the fastest way you can, would be my advice. The introduction isn't the actual Rosary.
Build up to one whole Rosary daily
If you are new to the Rosary, it is perhaps a good idea to pace yourself with praying it daily.
Perhaps begin the first few weeks or months with just praying one decade/mystery a day.
Pick any decade/mystery you like of the Rosary. Announce the mystery of your choice, then pray one Our Father and 10 Hail Marys, finishing with one Glory Be. Done. There's your decade.
This is a really great spiritual discipline. Just doing this daily will have a great impact on your life.
When you feel ready, you can go onto two or three decades for the day. Or even the full five decades, thus completing one Rosary daily.
I suggest keeping to one Rosary of 5 decades for a while until you are familiar enough with your own rhythm of this prayer and whether it is even for you personally.
We have to be realistic here. The Rosary isn't for absolutely everyone. This is why different spiritual devotions exist within the Catholic Church.
You must find what works for you. You are an individual so unique that God has never and will never make another person like you. What works for everyone else may not work for you.
Build up to two Rosaries
When you feel like one Rosary a day is too little, you can seek to increase the number of Rosaries you pray daily.
One Rosary a day is excellent, even though it doesn't require very much at all, especially when spread throughout the whole day.
Spread throughout the day, one Rosary a day is the easiest, simplest discipline imaginable when you consider the blessings that God pours into our lives through it.
But two Rosaries a day would be twice the blessing of one.
Three Rosaries a day is what many of the saints of the past have done. That is: Joyful mysteries, Sorrowful mysteries and Glorious Mysteries. These three sets of mysteries are the ENTIRE Rosary – all 15 mysteries.
And if you're feeling really hardcore, you can attempt the mighty 4 Rosaries a day!!! This is the three above, plus the Luminous mysteries (which were added in 2002).
Many of us report tremendous blessings and even miracles that come through the recitation of three or four Rosaries a day, so this is definitely something worth considering when you feel called or ready.
If you have any questions or wish to add your viewpoint, please leave a comment below.
God bless through Mary Queen of the most holy Rosary.