The 20 Mysteries Rosary is the whole Rosary in all its entirety typically prayed throughout the course of a single day.
That's right: all the mysteries. Every, single, one. In one day.
You may be thinking: Who on earth would do that?!
Well, it's actually a growing devotion in the Catholic Church. And the Church has always had people (often people who later become saints) who have recited all the mysteries of the Rosary everyday.
When I first heard about this devotion, I thought, 'There's just no way I could ever do that everyday. It takes me long enough to pray 2 rosaries. 3 in a single day and I'm completely spent.' Still, I told Mary: 'If this is what you want, then give me the grace to do it.'
Sure enough, within a very short time, Mary got me into this devotion. You wouldn't believe the life sacrifices I went through to attain this devotion, but I am so very grateful that this devotion is an essential part of every day of my life.
I don't think I could live without it now. It has vastly enriched my life more than I could ever put into words.
What the 20 Mysteries Rosary Can Do for You
I credit the 20 Mysteries Rosary with helping to save me from a mental collapse, sins I'd struggled with for a long time and sustaining my faith so well everyday.
If you've never prayed the 20 Mysteries Rosary in a single day, I do recommend it. But if you're new to the Rosary, try praying just one a day for a while, and then perhaps build up gradually to 2, then 3, etc.
St Padre Pio used to pray between 30-50 rosaries a day….!!!!! So, we're far from that kind of supreme, supernatural holiness. Interestingly enough, however, he vowed to pray 5 rosaries a day when he was younger.
If you commit to praying a few rosaries a day, you never know where you might end up.
One thing I suspect is that if the Rosary is an absolute constant in your life, it should become rather difficult to willingly sin and it should become natural for you to have faith rather than to doubt God.
Life should get simpler, also. You should find it easier to cope with the harsh realities and experiences of life. You should find that you are much more content with the simple things in life.
You may be surprised how God works in your life behind the scenes. Since I've taken up this devotion, God has done so much for me, with sometimes hardly any effort on my part.
It's as if God says to me, 'Just pray my Daughter's Rosary, and I'll sort all these other things out, you don't need to concern yourself too much with them.'
With little doubt, if you practice this devotion, you will be on the path to sainthood. You will get to heaven if you are committed to this devotion, and one way or another, you will very likely become a saint.
There are some very easy ways to become a saint, and I recommend you read about them here.
Think of it this way. The Church has plenty of saints who became saints largely through their daily recitation of 15 mysteries of the Rosary. Think what kind of saint you or I might become if we daily recite 20 mysteries of the Rosary!
If you want to become saint, it could well be that this devotion is for you. Ask Mary about this, and perhaps tell her that if she gives you all the help you need, you will take up this devotion everyday.
Or you could just try doing it for a week and see what happens. Many who do this never go back to anything less.
How to Pray the 20 Mysteries Rosary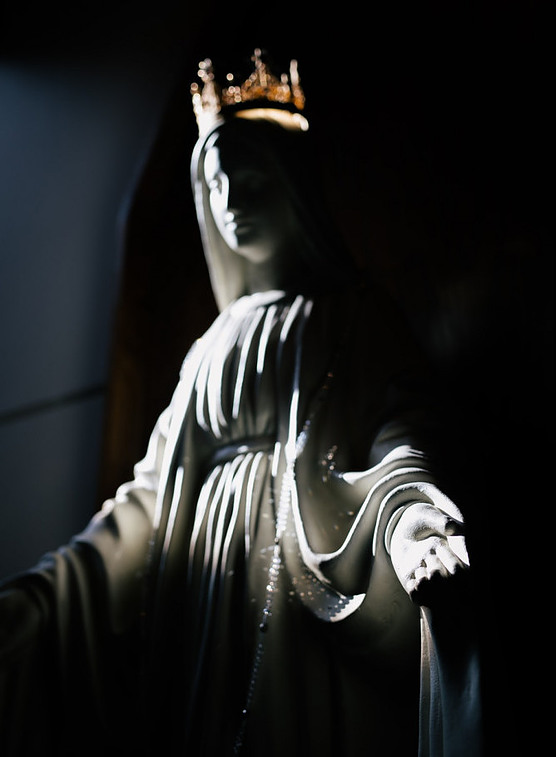 The 20 Mysteries Rosary is prayed the same as you would pray a 5 mysteries Rosary. Except, you don't repeat the introductory prayers with each set of 5 mysteries.
You recite the introductory prayers once at the start of the day, and from then on you focus on meditating on the mysteries, the Our Fathers and the Hail Marys.
When a set of 5 mysteries is completed, you do NOT need to recite the concluding prayers. You can leave these until just after the very final mystery of the day.
The final thing to mention is that you will obviously not pray all 20 mysteries in one sitting. That would frankly be ridiculous for most of us. Even Pope Benedict XVI said he can't pray more than 3 mysteries in one sitting, so we're in good company here.
Simply pray what you can, when you can.
You're in the shower, and can pray a decade? Then go for it.
On the toilet? Perhaps pray a decade. Why not? The Church never says you can't do this. All of life is sacred in Christ.
In the car, or on the bus? Go for it, pray a decade or two.
On your lunch break at work? Pray a decade or two.
Out walking? Picking the kids up? Making a cup of tea or coffee? Doing some gardening? Riding your bike?
All of these are opportunities to pray a decade here and a decade there.
You don't even need a physical set of rosary beads to do this, though it is of course highly recommended if you are able to get your hands on them.
---
My Own Method of Daily Prayer
My one main task each and everyday is to pray 20 mysteries of the Rosary. But first of all, I have some other morning prayers I've grown very accustomed to praying.
I wake up, do the sign of the cross, and maybe some prostrations to the words, 'Glory to the Father and to the Son and to the Holy Spirit.'
I then say: 'Blessed be forever the most sacred Heart of Jesus, and the sorrowful and immaculate Heart of Mary full of grace.'
I then renew my full consecration to Jesus Christ through his Mother: 'I am all yours O my sweetest Lord Jesus, and all that I have is yours, through Mary your holy Mother.'
I then say similar words to Mary, St Joseph, and St Francis of Assisi (I am currently exploring the possibility of joining the Order of Secular Franciscans).
I then say the famous Catholic prayer: 'Jesus, Mary and Joseph, I give to you my heart, soul and body. Jesus, Mary and Joseph, be with me in my final agony. Jesus, Mary and Joseph, let me breathe out my soul in peace with Thee. Amen.'
I then ask St Joseph for employment and income for all those in the world who have no/little money. I also ask him for help for my wife and I in fulfilling all our responsibilities and work for the day.
If I don't think I'll be at Mass, I often offer an act of spiritual communion to Jesus. Lately I've been offering Jesus a Morning Offering.
These are my first set of prayers done.
Now for prayers to the saints. I use the following formula: 'St (name), pray for us.' In order:
St Padre Pio
St Therese of the Child Jesus
St Cajetan
St Ignatius of Loyola
St Dymphna
St Louis Martin
Holy Angels of God, our Guardians
Sts Michael, Raphael and Gabriel
St Gertrude the Great
St Francis of Assisi
Sister Clare Maria (not yet a recognised saint, but many Catholics already have a devotion to her)
St Margaret Mary
St Faustina
Holy Souls in Purgatory
Finally, I pray an extremely powerful prayer which begins as follows: 'Eternal Father, I offer you the body and blood, soul and divinity of your dearly beloved Son, our Lord Jesus Christ, in union with holy Sacrifice of the Mass said throughout the world today, in union with the sorrowful and immaculate Heart of Mary full of grace, in union with the poor sacrifice of my own life, for …'
Then I list a number of things that I feel are a little too sacred to mention for now. Suffice to say they are highly significant to the world as a whole and to the holy souls in purgatory.
After finishing these prayers (which really don't actually take that long, usually about 5 minutes or so), I will at some point begin the introductory prayers of the Rosary.
I use the short introduction to the Rosary. I don't want to take ages to get into it. I've got a lot of mysteries to get through each day.
I also ask Mary for help to pray her rosaries today.
If I have any special things on my mind, I offer the rosaries for these.
At some point, I'll begin the first mystery.
Now, here's my basic, usual schedule.
I pray the mysteries in order, from the Annunciation, right through to the Coronation of Mary. I only ever do it this way, because I want the entire life of Jesus, in chronological order, to be experienced by me everyday.
I pray the first 5 mysteries before midday.
I then have six hours to pray the next 9 mysteries. Usually by 6pm, I've prayed the Carrying of the Cross.
I then have the rest of the evening to pray the last 6 mysteries. Usually I've finished the final mystery and the concluding prayers way before I go to bed.
I then ask for the prayers of the saints: 'St Padre Pio, pray for us. St Joseph, pray for us. St Michael the Archangel, pray for us. St Francis of Assisi, pray for us. All angels and saints, pray for us. Holy souls in purgatory, pray for us.'
'May the divine assistance remain always with us. And may the souls of the faithful departed, through the mercy of God, rest in and abide in peace.'
I always finish with the sign of the cross using the crucifix on my rosary beads.
And that's it.
Next day, repeat.
Consistency Will Make You Holy
My method will not be the one that works for everyone. It might not work for the vast majority, but it certainly works for me.
I don't really experience anymore a sense of spiritual dryness, or a longing for some other devotion or discipline that could feed my hungry soul. This is all I've ever been looking for and it works for me. It may not work for you.
The key is to find something that does work for you, a devotion you really resonate with, and to stick with it each and everyday. It's this that will really make you all you're meant to be in Christ.
It may be a small devotion, just a few prayers a day, or maybe even one prayer. Perhaps it may be just 3 Our Fathers daily.
Whatever it is, just stick to it. Sometimes our devotions take on a life of their own, and evolve. What starts of as 3 Our Fathers a day may someday turn into 50 Our Fathers a day.
Call upon the Virgin and St Joseph to aid you in this. Ask them what spiritual disciplines you need to fulfil all that you are meant to be before God.
If you have any questions, please drop me an email, or leave in the comments below.
God bless you richly now and forever.