Hello there Rosary lovers! In this post we will look at: how to pray 4 rosaries a day.
4 Rosaries Daily Devotion
Devotion to praying 4 rosaries a day is growing. You can now find sites online and videos on YouTube of people who pray 4 rosaries a day, and then testify to how much it has changed their lives.
From a secular standpoint, this is not surprising. Praying 4 rosaries a day is effectively a powerful way to meditate for about an hour daily. A hour's meditation should presumably have quite a powerful impact on an individual's mindset.
But there is obviously far more going on with the Rosary than simply what the secular world might recognise. The Rosary is a gift from Mary. It is a profound grace from God, and is filled with blessings and indulgences.
The Rosary is an outstanding means to get to heaven. And it has turned countless sinners into saints. Pray the Rosary and watch your sins drop away from your life.
So praying 4 rosaries daily? Well, that's going to have quite a spiritual impact, isn't it? If God gives you the grace to do it, then DO IT! You can't regret this investment in eternal life. Truly this is laying up treasure in heaven.
But how can we do it? Praying 4 rosaries a day is tiring. Day by day, slog by slog, it's not easy. Trust me, I know, I've done it for well over a year.
But I have also developed ways to make it as enjoyable as possible, and as quick as possible, whilst losing nothing of the meditative and relaxing side.
So here are my tips on how to pray 4 rosaries a day, should you be interested.
Use a Pre-recorded Rosary
We live in a golden age of technology. It's the age of the internet. So: why not use the internet as you pray? Why not even use the internet to PRAY FOR YOU?
You can search on YouTube or on Podcasts for pre-recorded rosary recitations. Many of them have music and pictures, all of which help you meditate and focus. You'll find doing this a LOT less tiring than trying to recite all 200 Hail Marys yourself during the day.
I recommend the following:
This video from YouTube and Rosary Companion.
You can also find tonnes of great stuff from here, including some excellent pre-recorded Rosaries.
Anyway, you get the point; there's plenty of pre-recorded rosaries out there.
Why? Because Catholics have see the value in using them. When we drive to work, when we are too tired after work to pray the rosary ourselves with our own lips, we can use the lips of someone else.
So far as I can tell, there is NOTHING wrong with this approach. It does not invalidate your recitations of the Rosary, you ARE reciting the Rosary even when you just lie back and let someone else pray it, and you listen and meditate.
I can prove this to you from the Enchiridion on Indulgences, an official Catholic Church document.
Go and read that document if you don't believe me. At point 33, you will see that Catholics can still receive indulgences through prayers EVEN if they only pray half of a prayer or half a line of a prayer, and someone else prays the other half, or EVEN if someone else prays the whole prayer, and you listen and follow along in your mind.
And let's not forget the Divine Office, which priests HAVE to pray daily. But do you know that it is acceptable for them to simply READ the Divine Office, even without moving their lips at all?
So let's not imagine that using pre-recorded rosaries to pray the rosary is cheating, or lazy. So far as I can tell, it's perfectly acceptable.
Pray the Rosaries throughout the Day
To be able to pray 4 rosaries a day, you will need to split it up constantly. You probably won't even be able to pray one whole rosary at any point of the day, apart from the evening. It depends on your life.
I pray a decade here, a few decades there, and then pick up what's left in the evening.
Try to Start Early!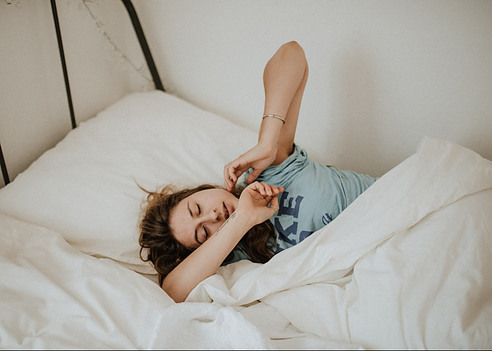 The best way to get the most out of this experience is undoubtedly to begin as soon as possible after waking up. For those of us with little ones running around, this isn't very easy.
But on days when I find I have spare time in the morning before my day properly begins, getting through at least a few decades really can make praying the rest of the 4 rosaries much easier.
Not to mention that doing this is great for your spiritual life. Days where you have begun with Christ and Mary tend to be sweeter than those days when you can only really meet with them later.
Carry your Rosary Always with You
Always have your Rosary on you. If you don't have one, check out this page, and perhaps it will help. I've got a rosary from this company and I LOVE it. It comes with me everywhere.
I carry my Rosary in my pocket all the time. It's in my pocket right now, as I type. Sometimes I even sleep with it in my hand, it's like holding Mary's hand.
Having the Rosary on you will be an encouragement to pray it.
Make the most of those spare moments
We all get spare moments or a spare half hour during the day. For most of us, we shouldn't pretend this isn't the case. What do we do in those spare moments? Go on Facebook? Or on our phones? Watch TV?
Hey, it's great to watch TV (I'm not really a fan of Facebook, I think it's FAR too addictive). We all need to chill out. But if we were to give a good portion of these spare moments to reciting a decade or two of the Rosary, you'll soon discover you have more than enough time on many days to pray 4 rosaries a day.
And if you really want something, if you REALLY want to do something, isn't it true that you can always make time for it? Think about it.
I know this is true of me. No matter how much I tell myself otherwise, if I really want to do something, or accomplish something, I somehow miraculously find the time to do it. Desire finds time by sheer determination.
This is why praying 4 rosaries a day can be EASIER than praying 1 or 2 rosaries a day.
'What?'
Yep, you heard me. Because to pray 1 or 2 rosaries a day, you subconsciously think, 'Ah, I've got ages today to do that.' So you leave it until 10pm at night when you're shattered and just want to go to bed. And it becomes really hard to do it.
You don't make the most of the spare moments if you only have 1 rosary to pray daily.
But praying 4 rosaries a day, you do make the most of the spare moments. You have to, or you can't complete it daily. And so it gives you a mindset for finding it easier to pray the Rosary.
Seriously, there are plenty of days when I finish praying 4 rosaries and I think, 'Do you know, I could easily do a fifth rosary today.' That's because my mind is IN THE ZONE. Why? Because I've made the most of those spare moments throughout the day. My mind is in Rosary Gear. Praying the Rosary is easier when your mind is in Rosary Gear.
It isn't if I only pray 1 or 2 rosaries a day.
Pray the Rosaries Different Ways
On almost NO day do I pray all of the Rosaries in the same way. For some of the decades, I'll use a pre-recorded rosary, but for others I'll pray them myself.
Some I pray with great attention and devotion, and others I pray with my mind distracted.
Some I pray using images, others I pray without images.
Some I pray lying down or on the toilet, others I pray walking around.
Some I pray in the light, some in total darkness.
Shake it up a bit! If you do it the same way all the time, this can lead to boredom.
Ask Mary to Help you
The NUMBER ONE piece of advice I can offer is this one: everyday, ask Mary to help you pray her rosaries.
And she will give you the grace to pray 4 rosaries on that day.
Mary is Queen of the most holy Rosary. No-one can help you more to learn how to pray it than her.
Accept your Imperfections
Many of us are perfectionists. We want to pray perfectly. We want every decade we pray, every rosary, to be perfect.
This isn't real life. We aren't in heaven yet. Rarely do I get to enjoy precious moments of sheer contemplation when praying the Rosary.
Mary is such a loving mother, she will receive even your poor efforts, but all she wants is that we give it a try. Don't focus on performance, but just try to give Mary something of your heart. If you do this, you'll never pray a bad rosary.
And remember that Mary herself makes up for all your imperfections in reciting her Rosary. She'll perfect it before God 🙂
---
So I hope those tips prove helpful. There's probably more I could say, but I'll leave it at that for now.
Any questions? Please get in touch.
God bless you!!!