Hello Rosary lovers! In this post we will answer the query: can I kiss my rosary?
A Beautiful Thing
You absolutely CAN kiss your Rosary beads! I do this very often, mostly just kissing the crucifix attached to the beads. There is FAR from anything wrong with this, and in fact it is a very meritorious act.
When you kiss your Rosary beads, you are kissing God. You are showing love and affection for God, who the Rosary points to.
You are also kissing Mary, our dear Mother. Mary is always kissing us, in the Rosary. So it only seems right to kiss her back by kissing her beads.
St Padre Pio said that when we hold the Rosary beads in our hand, it is holding the hand of Mary. Since this is true, kissing the beads means you are kissing the hand of Mary!
May God BLESS you for doing this! It is a beautiful thing.
I don't know about you, but some nights I have found myself on the internet, looking at artistic representations of the Virgin Mary. Or statues of her. She is so utterly beautiful that I cannot help kissing some of these images on my phone screen.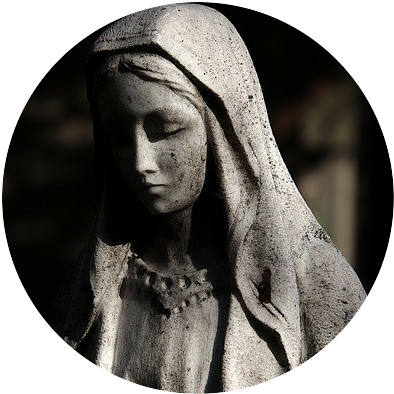 I commend this devotion to you because it's so easy. You just gaze at picture of the Virgin on the internet and let her thrill your heart.
A Physical Religion
Kissing religious objects is a common practice in the Catholic world, but it may be an even bigger thing in the Orthodox Christian world. Eastern Orthodox Christians are always kissing religious icons, which represent Christ, his Mother and the saints.
Orthodox laity also kiss the hand of the priest, which is a practice I never felt comfortable about.
I learned to kiss religious objects from the Eastern Orthodox tradition when I was heavily involved in it a few years ago. I love the Orthodox tradition, and find it is very sensory. Many people – men in particular, it seems – find this very appealing.
Orthodox Christianity impacts ALL the senses. This is why they always use incense, and do a lot of prostrations and kissing of icons. Count how many times the Orthodox do the sign of the cross in their worship. You'll lose count.
The Incarnation and Created Things
This kind of physical relationship to religion is based on the incarnation of Christ. God became flesh, God took physical nature into union with his own being.
Creation (the flesh of Christ) is actually UNITED to God's own being forevermore. Because of this, Christianity is an exceptionally PHYSICAL religion.
As a result, created objects are used constantly for the glory of God and to represent God. So this approach to religion belongs as much to the Catholic Church as it does to Orthodox Christianity.
Perhaps many Catholics have forgotten this. An aged British Catholic once told me that he felt the Protestant Reformation in the UK had deeply influenced Catholics negatively. When I asked why, he said because Catholics in the UK don't relate as much to images as they used to.
He then told me about Catholics from the Philippines, who tend to be much more physical with images. Many of them touch images as a way of connecting with God.
I once saw a Catholic man in Scotland reach out and touch a statue of the Pieta (Mary holding the dead body of her Son after he is taken down from the cross). This man touched it for longer than a quick second, as if he was trying to touch Mary herself and experience something of God.
Anyway, if you don't find kissing religious objects 'your thing' then that's fine, you can still be a good Catholic. I don't believe the Church requires Catholics to kiss religious objects in order to obey the Church.
But many of us do find that relating to God with our bodies to be a powerful way to show our affection for God and to feel his presence more. We do this by touching or kissing religious objects or images, tombs or relics of saints, bowing to relics, kissing rosaries, or in a whole host of ways.
When you really love someone …
Think of it this way. When we love someone – deeply love them – it is only human to express that love physically. We kiss our parents or siblings, or spouses. We often even kiss our pets.
So to kiss a rosary is the same sort of thing. It isn't because we literally want to marry a set of rosary beads. We don't have a romantic involvement with the beads, that's just silly.
We kiss the Rosary because of what they represent. They represent God's presence. A priest has blessed the rosary beads, and so they channel God's grace to us. And most of all they represent Mary, because she is the Queen of the most holy Rosary.
I hope this has proved helpful! Feel free to get in touch if you have any more questions.
God bless you 🙂